ETIRA, the European Toner  and  Inkjet Remanufacturers  Association welcomes,  recognizes  and  congratulates  Brother  industries  on  its  latest  strategy  and  action in  favor  of  a  cleaner Europe, and endorsing  cartridge remanufacturing  as a top priority.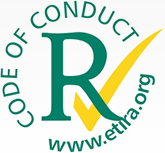 Brother has fitted chips on recent cartridge models, and although the independent cartridge remanufacturing industry initially feared these chips would hinder  and  obstruct  remanufacturing of the cartridge (like chips from most OEMs do !),  this  is  not  the  case with these particular Brother chips.  When these cartridges run empty, their chips can be easily reused  time  and  time again.  And while this chip protects Brother's IP -rights, it does not obstruct remanufacturing of the cartridge by independent cartridge remanufacturers.
In ETIRA's view, this Brother strategy represents  a  key  milestone  in the fight  against  single  use  cartridges ("SUCK"s  as  they  are  known  in  the  market), and  addresses the needs of our society which calls for product reuse, and meets the European  Directive  on  Eco-Design.
It also represents a major step  forward  into  applying  the  "4R"- hierarchy,  which places  preparation  for  reuse  and  remanufacturing above  other options like mere recycling of the materials, incineration or landfill .
ETIRA calls on all other printer manufacturers and  the European  authorities to  follow  the  example set by Brother. Chips can enhance cartridge functionality but must never hinder cartridge reuse.
We also ask for EU-wide mandatory and  increasing  minimum reuse  thresholds for cartridges.  This is what some EU member states, that are truly aware  of  the damage that single  use  plastic  cartridges  represent  to  the European  environment,  are  already calling  for.
Cartridges are WEEE, electronic waste, and  as  such  their preparation  for  reuse  is  top  priority, as  WEEE  account for  70%  of  toxicity  on  waste.
For this, there should be an obligation  on printer manufacturers to share data with 3rd  parties under  a license  agreement, similar  to the arrangements existing in the car industry where  manufacturers  are  obliged  to  supply   independent  3rd  party  repairers all  information  they require to  do maintenance  and  repair  of  all  vehicles,  including software,  parts  catalogues, manuals, etc.
Contact:
ETIRA President Javier Martinez ,    jma@turbon.eu    + 34 678 67 1961
ETIRA Secretary General  Vincent van Dijk, info@etira.org    + 31 414 61463
=================================================================================
ETIRA stresses that for consumers and businesses, the best option is to reuse an OEM cartridge as a cartridge, as supplied by the thousands of remanufacturing companies across Europe. Remanufactured OEM cartridges are less expensive and 100% environment-friendly.
ETIRA (www.etira.org) represents the interests of the independent inkjet and toner cartridge remanufacturers and related service providers, and is the recognised industry body for all topics affecting the industry. ETIRA provides many services to its members: legal and regulatory advice, public relations, environmental impacts, quality and standardisation forums and member contact platforms. ETIRA also manages a remanufacturing Code of Conduct and the ticked-R collective mark assuring consumers of less expensive but 100% environment-friendly remanufactured cartridges.
ETIRA Is not related to any printer manufacturer.
SOURCE EITRA
Clover's New Jumpstart Program Offers Dealers 0% Financing Terms on Hardware Upgrades