Analyst Group Recognizes e-STUDIO™ Series for Coupling Premier Security and Eco Features at Affordable Price

IRVINE, Calif. (Sept. 30, 2013) —Toshiba America Business Solutions, Inc. (http://business.toshiba.com) today announces its e-STUDIO5055C series of multifunction products (MFPs) have received this month's Better Buys for Business Editor's Choice Award within the color copier segment. 
Better Buys for Business selected the e-STUDIO5055C series after rigorously testing all current color copiers. The leading managed print services (MPS) provider and business printing solutions innovator's recently introduced multifunction product series were recognized for delivering vibrant color quality, premium security and eco features at an affordable price.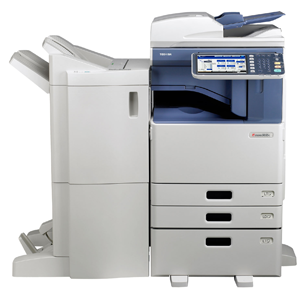 To ensure its independence, Better Buys for Business – one of the nation's leading independent authorities on office equipment products – accepts no advertising. 
Toshiba's five latest compact and durable printing devices – featuring one of the smallest footprints in its class – allow businesses large and small to produce dramatic color business documents at up to 50 pages-per-minute. By implementing the company's next generation e-BRIDGE™ controller, users may simply and easily manage, capture and deliver documents – via a tiltable nine-inch control panel – while offering all of the benefits associated with cloud and mobile printing. 
To ease security concerns, the e-STUDIO5055C series includes Toshiba's unique Self-Encrypting Drive featuring Automatic Data Invalidation and suite of features to equip customers with an elite level of data protection. Should anyone attempt to remove and connect the hard disk drive to another device, all of the information on the drive will automatically erase. 
To enhance color reproduction while minimizing power consumption, the new color printing devices integrate a low-temperature fusing toner. For added energy savings, Toshiba's latest e-STUDIO series further include a Super Sleep Mode reducing power consumption to a mere 1.5 watts. 
"We are honored to have our latest color products recognized by one of the country's leading independent authorities on office equipment products," said Bill Melo, vice president of marketing, services and solutions at Toshiba America Business Solutions, Inc. "The purpose for introducing our e-STUDIO5055C series is to outfit businesses across all segments with robust and affordable color MFPs implementing next gen security and eco features," Melo added. "Needless to say, we are delighted Better Buys for Business recognized our products for doing so." 
"As a manufacturer that consistently blends advanced security, ecological and performance features throughout its MFPs, we are pleased to once again present Toshiba with our Editor's Choice Award," said Melissa Pardo-Bunte, editor at Better Buys for Business. "With the advent of its e-STUDIO5055C series, the company once again delivers a premium MFP line ideal for virtually any work environment." 
Toshiba's e-STUDIO407CS series received the independent analyst's group's April/May Editor's Choice Award within the color copier segment. 
About Toshiba America Business Solutions, Inc.
Irvine, Calif.-based Toshiba America Business Solutions, Inc., (TABS) is an independent operating company of Toshiba Corporation, the world's eighth-largest electronics/electrical equipment company. TABS is a leading managed document services (MDS) provider with experts that help organizations take control of document security, workflow and print environments. With the award-winning Encompass™ managed print services (MPS) program, e-STUDIO™ line of multifunction printers (MFPs), toner products and retail information/thermal printing systems, TABS is leading the way for businesses to print smarter, work safer and conserve resources. For more information on Toshiba solutions and services available in the United States and Latin America, please visit www.business.toshiba.com.
Better Buys for Business
Better Buys for Business is an experienced team of office equipment analysts providing businesses with objective product reviews to help them make informed buying decisions about all types of office equipment. Each year Better Buys reviews more than hundreds of office equipment products. They are also known for its Editor's Choice Award, which is given to newer office equipment that delivers the highest level of performance and offer the greatest value in a given category. For more information, please visit http://www.betterbuys.com.
This message (and any attached files) is secret, confidential and proprietary and is intended solely for specific addressee(s). If the reader of this message is not the intended recipient, please notify the sender immediately by reply email and delete it and all backup copies immediately.