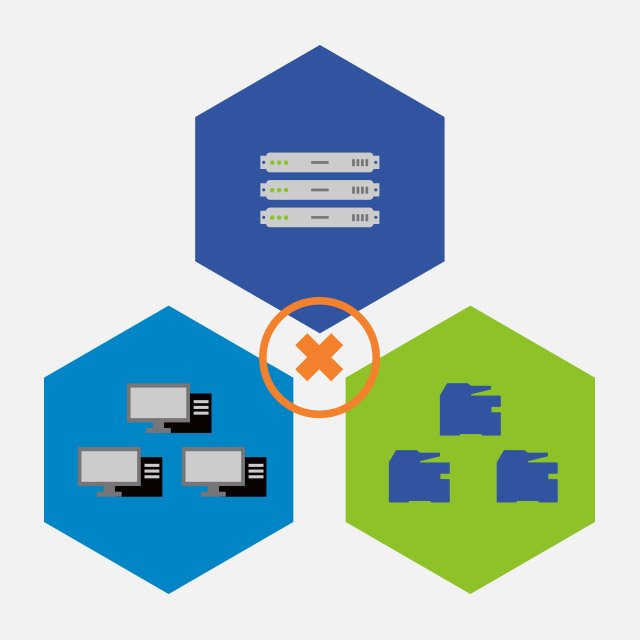 Group policy objects. GPOs. The mere mention of them is enough to send a shudder through the many admins who've wasted countless hours wrestling with their quirks and their nuances. Compounded with the usual headaches of enterprise print management, it's no wonder that there's a strong and continuous demand for alternative methods to deploying printers with group policy.
But is it possible to set up precise automated deployments without GPOs? Can you deploy a TCP/IP printer accurately and reliably without group policy? And what print management solution will let you deploy printers without group policy in Windows Server 2012 R2 and similar print environments?
The answer to all those questions is PrinterLogic. Our next-generation print management solution combines the stability and simplicity of direct IP printing with a centralized approach to management and oversight that is almost impossible to achieve with print servers. Instead of deploying printers with group policy, you can use the intuitive web-based admin console to set up targeted deployments to individual users or even user pools without any GPOs at all.
If you need to take a moment to do a double take, that's okay. We know this stands in stark contrast to the conventional methods used to deploy printers with group policy in Windows Server 2012 R2. But PrinterLogic's print management solution was designed with advanced functionality and ease of use at its core, allowing you to deploy TCP/IP printers without group policy—quickly, effortlessly, reliably and precisely. Our solution integrates seamlessly with Active Directory (AD), which means you can deliver printers to specific users based on criteria such as AD user, group, container, organizational unit (OU), computer, or even to a host name or range of IP addresses. Setup is as simple as a few clicks.
---
---
Think it's Impossible to Eliminate Print Servers? Think Again.