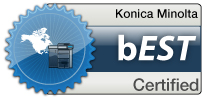 Konica Minolta is a leading global manufacturer of multifunction devices and has been partnering with Umango since 2009.
The Value
The efficiencies Umango provide to Konica Minolta devices is the ability to push scanning workflows directly to the devices without the need for any additional software installed on the device. The benefit to deploy Umango solutions is even further enhanced with a web kit on the multifunction device which enables you to review extracted information from your scanned paper work directly on the touch screen (we call this profile on device POD).
Umango are bEST certified partners with Konica Minolta. This provides confidence that the Umango solutions are not only reliable but also tried and tested for compatibility on the entire A3 range of Konica Minolta devices.
---
---