Tech Company's CloudConnect Named 'Enterprise Service of the Year'    
IRVINE, Calif. (Dec. 29, 2015) — Toshiba America Business Solutions' e-BRIDGE™ CloudConnect cloud-based application has earned a Gold Best in Biz Award in the 'Enterprise Service of the Year' category.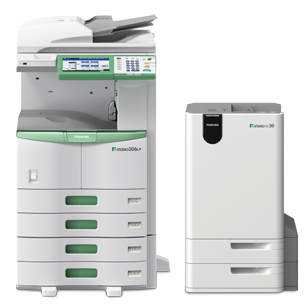 This year's recognition comes on the heels of Toshiba's 2014 Gold Best in Biz Award for 'Most Innovative Product of the Year,' which the company earned for its e-STUDIO™306LP/RD30, the world's first multifunction product with erasable toner.  The Best in Biz Awards are the only independent business awards program judged by members of the press and industry analysts.  
The Irvine, Calif. technology company's now widely adopted CloudConnect enterprise service optimizes the operation and functionality of its customers' e-STUDIO print fleets.  The state-of-the-art support app bolsters the user experience by gathering and transmitting service updates via the cloud.  
The fifth annual Best in Biz Awards in North America boasted the highest number of submissions to date. More than 600 entries were received this year from a wide array of public and private companies of all sizes and from a variety of industries and geographic regions in the United States and Canada.
"In the more than 15 years that I have been covering enterprise and consumer technology, it's been fascinating to watch 'old school' tools and technologies evolve for the cloud era," said Mathew Schwartz, InfoRiskToday.  "What struck me most about this year's entries in the Best in Biz Awards were the businesses that — brand names or not, long-established players or even more recently birthed organizations — continue to grapple with how to best reinvent themselves, and by doing so best tap the latest technology possibilities and capabilities for better attracting, retaining and serving their customers."
Winners of Best in Biz Awards 2015 were determined based on scoring from an independent panel of 46 judges from highly recognized newspapers, business, consumer and technology publications, radio outlets, and analyst firms. In addition to the numerous judges returning from previous panels from 2011through 2014, this year's judging panel included several worthy additions to the high-profile group.
The panel included contributors to ABC, About.com, Bloomberg Businessweek, Buffalo News,Business News Daily, Chip Design Magazine, Computerworld, Consumer Affairs, CRN, ECT News Network, eWeek Channel Insider, Fast Company, Fierce Online Video, Forbes, FOX News Latino,Hartford Business Journal, Inc. Magazine, InfoRisk Today, Information Week, King Features Syndicate, L.A. Biz, MediaPost, Motley Fool, PE HUB, Phoenix Business Journal, Portland Business Journal, ReadWriteWeb, San Jose Mercury News, Silicon Valley Business Journal, Small Business Digest, South Florida Business Journal, Tech Cocktail, Wired, Woman's Day and Xconomy.
 "Our engineering, sales and marketing teams are incredibly excited to receive another Gold Best in Biz Award, particularly with the impressive collection of journalists judging the competition," said Toshiba America Business Solutions Chief Marketing Executive, Bill Melo.  "User experience is among our product designer's top considerations.  Toshiba's CloudConnect can continuously monitor our printers, allowing us to diagnose and often remotely address issues before they affect customers. CloudConnect definitely provides our clients with a best in biz ownership experience."
Click-to-Tweet: Toshiba Wins Gold in Best in 2015 Biz in Biz Awards 
About Best in Biz Awards
Best in Biz Awards recognizes top companies, teams, executives and products for their business success as judged by established members of the press and industry analysts.  Best in Biz Awards honors are conferred in two separate programs annually: North America, and International. Entries will begin to be accepted in the fourth annual Best in Biz Awards International program in January 2016.  Any organization worldwide may enter any of the more than 60 company, department or team, executive and product categories. For more information about the entry process and categories in the International program, please visit: http://intl.bestinbizawards.com.
About Toshiba America Business Solutions
Irvine, Calif.-based Toshiba America Business Solutions ("TABS") is an independent operating company of Toshiba Corporation, a Fortune Global 500 company and the world's eighth-largest integrated electronics manufacturer. TABS provides printing, scanning and copying solutions, managed document services and digital signage for businesses of all sizes.
The company's award-winning e-STUDIO™ copiers and printers provide quality performance with the security businesses require. Complementing its hardware offering is a full suite of document workflow, capture and security services including Encompass™, the company's industry-acclaimed Managed Print Services program. Encompass enables clients to print less and optimize workflow while improving energy efficiency.
TABS' Ellumina™ digital signage offering includes all of the hardware, software and services needed to implement both static and interactive digital signage installations. TABS provides content creation and management, displays, integration, installation and project management services as well as financing for solutions ranging for a single screen to the biggest arenas and stadiums.
TABS compromises five divisions: the Electronic Imaging Division; the Toner Products Division; the Document Solutions Engineering Division; the International Division; and Toshiba Business Solutions.