By Andy Slawetsky – Kyocera held their annual dealer meeting at the Bellagio hotel in Las Vegas last week where over 1,200 attendees, partners and Kyocera employees met to see the future.
The first night was a welcome cocktail mixer sponsored by GreatAmerica where people mingled and reconnected. Great food and drinks, amazing people, it was a good night.
The next morning started bright and early with a general session where Kyocera SVP Ed Bialecki welcomed us with the news that Kyocera has achieved their 6th straight year of growth.
Previous president and now Kyocera Document Solutions (global) president Nori Ina continued Ed's message, telling listeners Kyocera had 7% revenue growth last year and will be introducing 37 new models (globally) this year.
Mr. Ina went on to discuss improvements to hardware, such as a new power consumption technology and a new toner that helps cut power usage by 50%.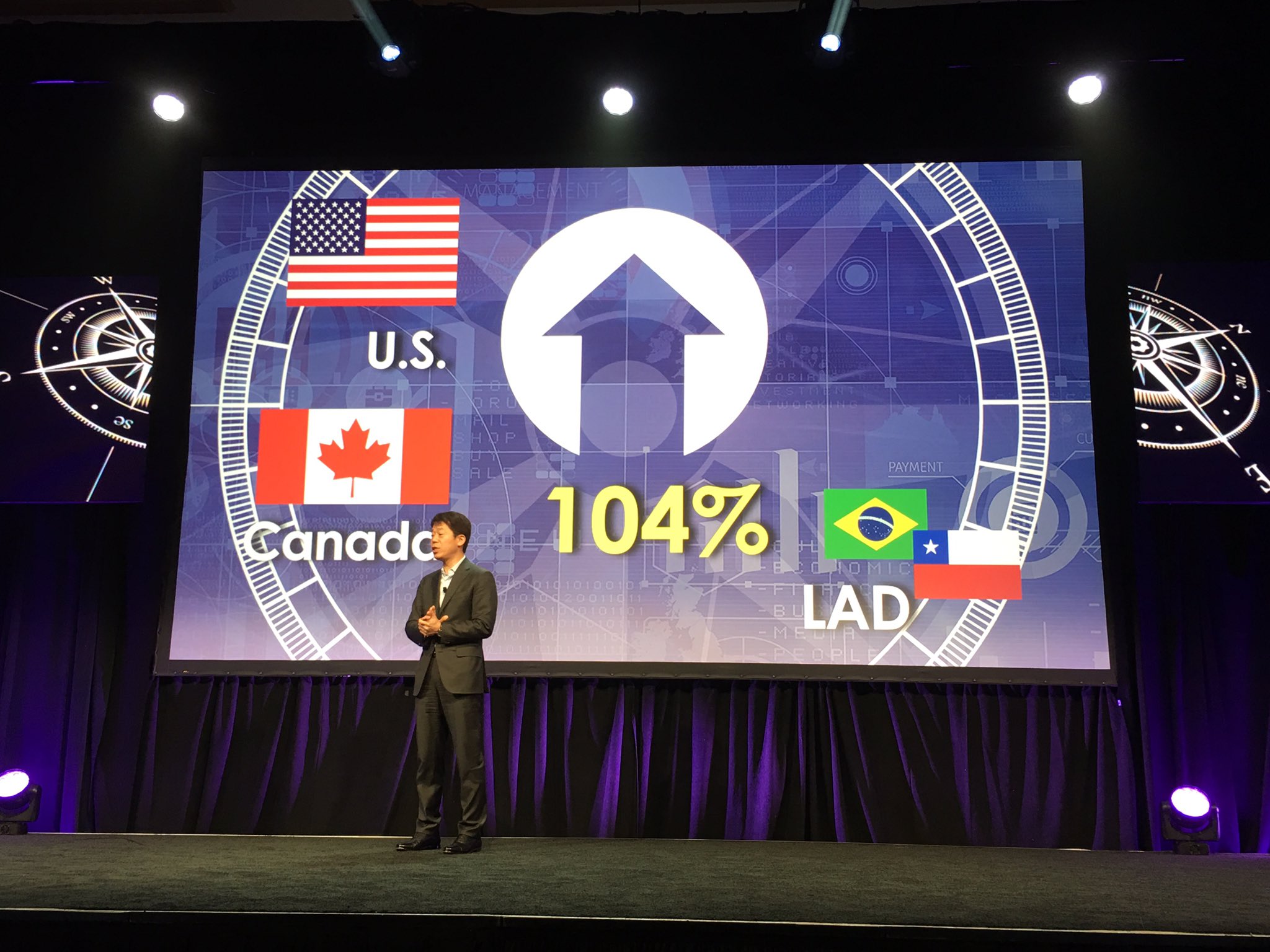 Kyocera is also working on a cloud-based predictive maintenance program that will add even more power to KFS, Kyocera Fleet Services, which is a program many of the dealers were raving about.
Next, president and CEO Yukio Ikeda took the stage to discuss Kyocera Document Solutions America (KDA) and how they did in North and South America. Mr. Ikeda told us they were 104% in the US, Canada and LAD.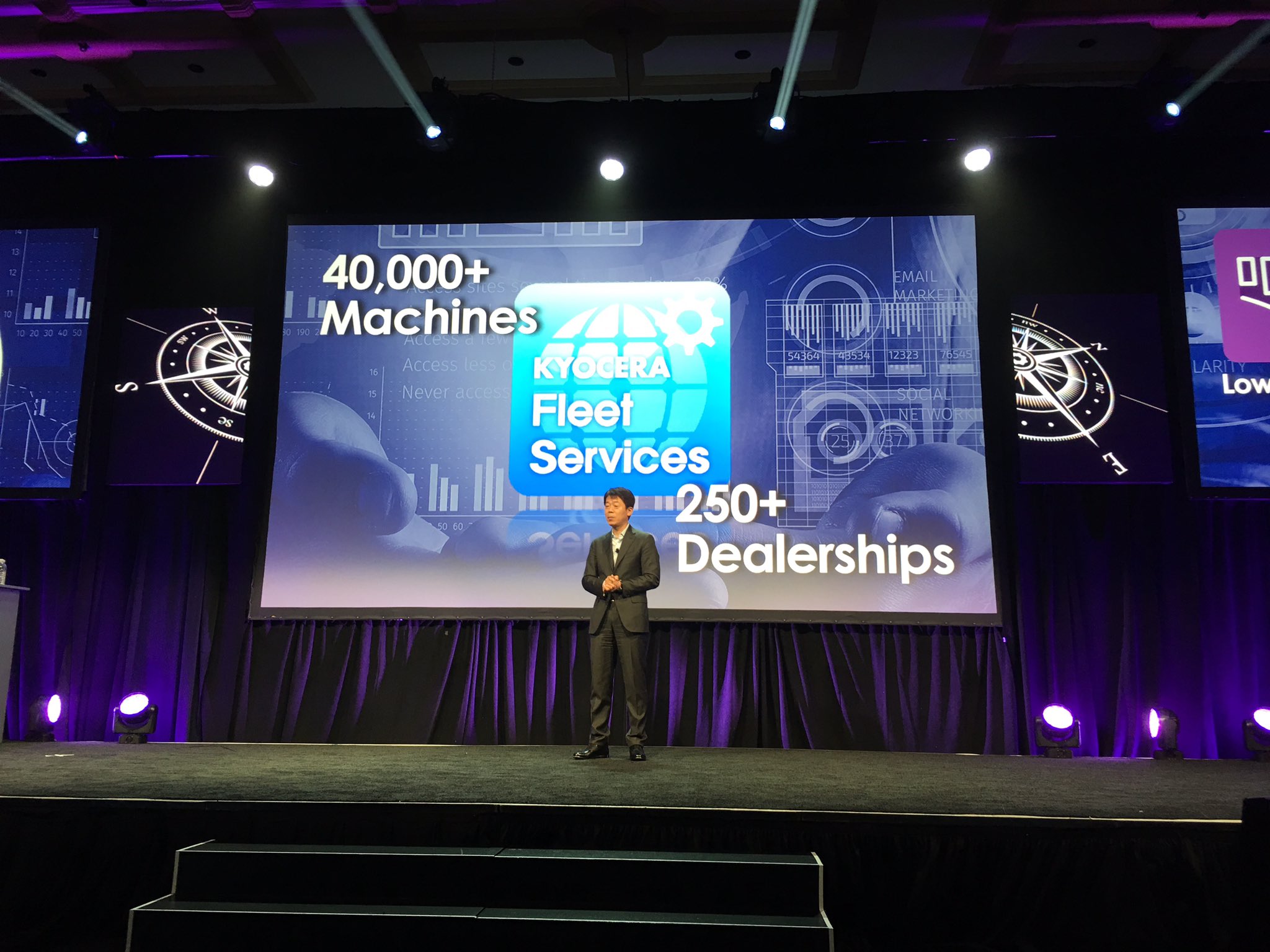 Ikeda went on to outline the five new initiatives Kyocera is undertaking, which are;
Strengthen TDS
New Markets
Lower Costs
Infrastructure
Evolution
These will be the core of what Kyocera focuses on going forward. All efforts will fit into one of these five areas.
---
---
Mr. Ikeda then shifted the discussion to KFS, where they have over 40,000 machines signed up from over 250 dealerships. This program has clearly been well-received and the cloud-based predictive maintenance capability will make it even better.
VP Terry Knopsnyder then took the stage and talked to us about Kyocera's new Toner Recycling Program for US dealers. This close the loop solution was badly needed and plays in nicely with the Kyocera ECO footPRINT story.
Next up was VP of marketing Danielle Wolowitz, who talked to us about Total Document Solutions (TDS) before shifting to a key announcement involving ECM partner Databank, a major Hyland OnBase reseller.
You may remember last year when Kyocera announced their partnership with Databank. At that time, Databank was working with a very small number of Kyocera direct operations, allowing Kyocera to better understand the program and work out any possible kinks before rolling it out to dealers.
Danielle told the crowd that Kyocera was now making this turnkey ECM program available to dealers. They're going to start with a few, again, to ensure it goes smoothly, before opening up to all dealers later this year. This gives Kyocera dealers a way to effectively sell ECM with minimal investment. Compare this to starting an in-house ECM program that can cost over six figures to get off the ground; this partnership could be a huge bonus for Kyocera dealers.
After a short awards ceremony, we were treated to a press walkthrough of their product fair, where we went to key stations to again see What's Happenin'. 
Compared to past Kyocera shows, there was a noticeable lack of hardware on the floor, which was surprising given the earlier announcement of 37 new models. Not all of those are coming here; it's a global number. This product fair was much more focused on applications and solutions.
At one station, we learned more about KFS, which works on all HyPAS enabled MFPs.
We spent some time at another station showing Kyocera's cloud printing solution that uses a QR code on the user interface to provide BYOD customers with the ability to print even when they're not on the network. It's very cool.
Lots of other areas of focus including security, device management and more. They had the Lighthouse Theatre in the product fair (building on their Navigate theme), where partners like ACDI and others were able to talk to listeners about what they do and explain how it ties into Kyocera.
Lots of partners were on the floor where dealers could meet people from PaperCut, DocuWare, EFI and more.
GreatAmerica was also at the product fair showing their new credit submission app.
Later, the analysts had the opportunity to sit with key executives Danielle, Terry and Mr. Ikeda to really discuss What's Happenin' at Kyocera.
---
---
It's no secret that one of the gaping holes in Kyocera's product line is production and once again, I asked if they're ever going to consider filling this void. For the first time, Kyocera's president not only acknowledged this shortcoming, but he told us they're actually looking into it. I couldn't tell if that meant they're working on prototypes or what, but it was great to hear that the executives recognize this lack of product as an issue and they're at least considering how they might provide their dealers with product. That's not to say it will ever happen, but this is progress!
I also asked why Kyocera hasn't been more successful (in my opinion) with their 3-tiered color meter billing system that allows dealers to charge customers much less for color pages when minimal color is actually used. I would think this would have made Kyocera color models the hottest boxes ever but most dealers still don't do it.
Maybe they don't want to give up the 5 – 8 cents/page they're getting from their current customers, but I'd think you'd win more than your share of net new customers by selling this tiered color service contract at a fraction of the competition's offering.
Kyocera hasn't really pushed this program too hard. It's almost like, it's here if you want it, but we're not going to talk about it much. Understandably, they can't really market it, or customers would demand that their dealers offer this and many simply may not want to bill that way (or give up the higher click rate).
Kyocera is one of the last MFP OEMs that still religiously holds their dealer meeting once a year. We discussed this with Mr. Ikeda and it seems they may be considering a move at some point to an 18-month model. This would be quite a financial savings to them and it would allow Kyocera to time their events closer to product launches.
I thought it was a great meeting. But, it's what the dealers say that really matters. Those that I spoke to were pretty impressed. One of them mentioned that he was annoyed at first that there was very little hardware to see, only to change his mind as the lack of hardware provided him with a lot of extra time to learn about the apps and other areas. "It's the best Kyocera meeting I've been to," he told me.
Several dealers spoke to me about KFS and how powerful it is for their dealership. With Kyocera providing so many updates to this already popular program, dealers were pretty excited.
Overall, it was a very nice meeting. Kyocera had several key strategies to talk about and dealers seemed pretty happy with what they heard.
Thanks for including me in your meeting!
~Andy
Kyocera Receives Recycling Award from the City of San Diego for 17th straight Year